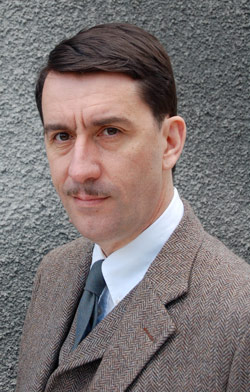 Friday September 30th  @ 7.30.
Tickets: £5.00  from The Festival Box Office:  Box office: 01988 403222  or tickets on the door
www.wigtownbookfestival.com
 
Tim Turnbull is a stage-poet, a page-poet and an all-round linguistic marauder. His laconic, caustic, hilarious style has won him a nationwide following, winning him the inaugural Edinburgh Poetry Slam for his poems on stage and in 2008 a shortlisting for The Forward Poetry Prize for his work on the page. 'The future poet laureate' (The Guardian).
 
'....the Turnbull cocktail is a slug of artistic and cultural observation, a dash of social and political commentary, laced with a dark, sardonic and moral humour that calls a spade a spade – the kind of drink, to which the only response could be, "What Was That"?  Slab Review.
 
Followed of course by our regular open mike sessions aka The Fickle Tupperware Bowl of Fate. The Bakehouse is an intimate, friendly venue  in the heart of Dumfries and Gallowa -  the perfect place to share your work. Spoken word or music – come along and be part of the fabulous Wigtown Book Festival at The Bakehouse!