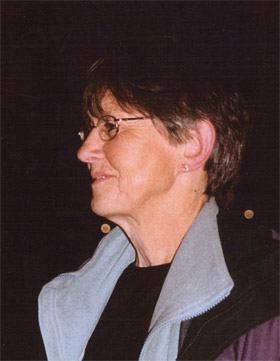 Libby Houston is a true survivor from the Age of Beats. Since first performing in a cellar under the 1961 Edinburgh Festival, she has read her poetry from Brisbane to Bruton, Solihull to Stuttgart. She toured with the avant garde band Earth House in the 80s, has sung her work to settings by the great Dutch surrealist Louis Lehmann and pioneered the concept of pop-up poetry. Her most recent collection Cover of Darkness (Slow Dancer Press) contains most of her work of the old century.

"..an original voice ….." A.S. Byatt
Libby Houston performed at the Bakehouse, Saturday August 2nd 2008.
---
Sacred

The road to the well's due east. OK. Lit
low, walking the afternoon light now, down the hill,
up again, switchback, pond below, blond banners –

nothing but pleasant, this and us, thus; outspread
red campion and meadowsweet on a like late
weekend break with their latin in the hedge flanks,
blue clouds – OK. And now converging wood,
warm gate set with lichen. We fall in, skirt a soft
edging till the dark path at the elbow, sodden ground –

When I found the place last time I left something,
something, feather or flowers – a coin? – lip-service, cardboard,
2D, cheap play, little pool with no one at home, deep
brown unsure like lazy smoke. This time I drank.

OK. Stirring dregs, dust. Stirred? Stirring what slow – wishes? –
smoke, in any of us? More separate than stars as we fit
the photo joking among birch trees, bramble and ferns.

© Libby Houston
{backbutton}